Guy Fieri flashing an "Illuminati eye" by looking through a hollow pitcher. Notice the black glove, which is a message that he is what they call a "surgeon," a black-magic "Wizard" who cuts humans into pieces and consumes them. Notice also his reflection in the counter top. Mirror image and reflections are symbolic of "As Above, So Below" – the concept of Heaven and Hell, with Hell being the exact opposite, the mirror image, of Heaven. The Illuminati are Satanic and view themselves as the Rulers of Hell. They also view this Earth as Hell  – as "the Devil's Playground." The "Devil" is Illuminati Leader "Kodiak," who also is Anton LaVey, founder of the Church of Satan. This same being has numerous Chef personas. He's a world class chef! He's been doing it for 2000 years. The Illuminati don't die, their souls can jump from body to body. Leader Kodiak can operate several bodies or "vehicles" simultaneously. Other of his "human personas" are Jimmy "Comet" Alefantis, Anthony Bourdain and Damon Baehrel. His Illuminati "eternal wife" is "Queen Bee," whose "human personas" include Anton LaVey's "daughter" Zeena LaVey, and also her clones, Taylor Swift and Karlie Kloss, which we've posted about many times, (and here's one post).
Below is a new story about Guy Fieri, another confirmed Illuminati Pizzagator chef (along with Anthony Bourdain, Damon Baehrel, and Jimmy "Comet" Alefantis, all of whom we have decoded on this blog). We decode the Fieri article partly below, but the most telling part of the article takes place in a short video clip embedded into the story which is below and is called "Harvesting Kale."  Please see our decoding of that video. If you read all of our decoded articles, videos and songs on this blog, you should see the patterns emerge as to who is talking and what they are talking about. We realize it is tedious work and hard to believe, but it is very, very important that at least some of the people on this Earth come to understand who is running this Earth and how they are preying upon humanity and other beings coexisting with us here. We need you to learn to decode these Satanic Illuminati messages, as well as our Outside family's messages to the inhabitants of Earth. The best way to learn is to study the examples we post all over this blog. Our lexicon of common Illuminati code words is here.
We didn't decode the entire Fieri story. Notice the last sentence, however, makes a pretty overt reference to the Illuminati: "Of course, there's no Flavortown—unless you believe in it."  These references are obvious to the Illuminati. Once you know what it is you are looking at, the code words and references jump off the page. For example, here's the photo accompanying Chef Damon Baehrel's interview – do you know what you're looking at? We do, and notified the FBI.
Who is Guy Fieri, by Vice (decoded in bold and parentheses)
A mob of white middle-aged fans swells behind a black rope divider outside the kitchen. It's a little after 1 PM in the weeds of the lunchtime rush. Despite the scene, line cooks crank through service like it's any other day.
 "Have you ever had trashcan nachos?"
Guy Fieri is standing at the pass inside the kitchen at his Las Vegas restaurant, Guy Fieri's Vegas Kitchen & Bar, a restaurant that in its prime can average 1,800 covers a day. (As usual, add up any numbers in articles to see their significance. This one is 1+8= Nine. Nine is the Family number assigned to Grey Aliens. We already knew Fieri was both a Grey and a Pizzagater because Jimmy Comet told us, in this article. Fieri  also did a video story on Comet Pizza, discussed in this post, where a "patron" called Comet's "Pizza" "to die for." There are no coincidences with these vicious Pizzagate Illuminati Players.)
His bleached blond frosted tips are glistening; his garish gold metal jewelry twinkles beneath the fluorescent lights. His wraparound shades, however, are nowhere to be found. He's holding a hollowed-out metal pitcher to one eye. "Like from a trash can?" I ask. Fieri lets out a guttural chuckle, shaking his head. "Sister… you have no idea," he says smiling as he's handed his distressed denim chef's coat, adorned with a leather collar and silver star buttons that look like they might belong to Ozzy Osbourne. (This is Code. Fieri is saying, "you have no idea" but I am the evil Wizard that heads up the Illuminati. We don't know yet whether Ozzy is actually a human persona of Illuminati Leader Kodiak, like Fieri is. Kodiak has many human personas, many of them chefs, but some are musicians. Many of the songs we sing everyday have Satanic messages in them.) I'm struggling to keep up with his fierce energy as I tuck my long hair inside a red and black Guy Fieri baseball cap, which also exhibits an intentional scuffed-up brim.
"You're in Vegas, the land of indulgence. People wear feathers on their heads and dance around on stage here, and people pay to see it… so this is far better than that," he says with a raised eyebrow. "You ready?" He quickly motions me over to the flat top grill while I tie the strings of my black apron—embroidered with a heart ensconced in flames—and put on latex gloves fit for a man. I didn't come here to learn how to make Fieri's Original Ringer Burger or the recipe for his Showgirls rendition of nachos, but it seems he has his own agenda. I've come to Sin City to spend some time with the Food Network star, hoping to meet the person who lives underneath the persona of the cartoonish hair, the flaming bowling shirts, the red '68 Camaro, and the sleeve tattoos and learn why this character as President of Flavortown has become an American icon. (The bold phrases are Code. As we've explained above, the Grey aliens hide inside human bodies, which they call "personas" or "clothes."  Human Illuminati from the Upstairs environment also do this. Anyway, this writer knows that because they say "hoping to meet the person who lives underneath the persona."  That person under there is Kodiak, the leader of the Illuminati, and the main driver of Pizzagate. His other chef personas are also Pizzagaters: Jimmy Comet Alefantis, Anthony Bourdain, and Damon Baehrel. This article writer also calls Fieri the "President of Flavortown" to cue in the other Illuminati that Fieri is Kodiak, their President.)
First, I have to cook my own burger.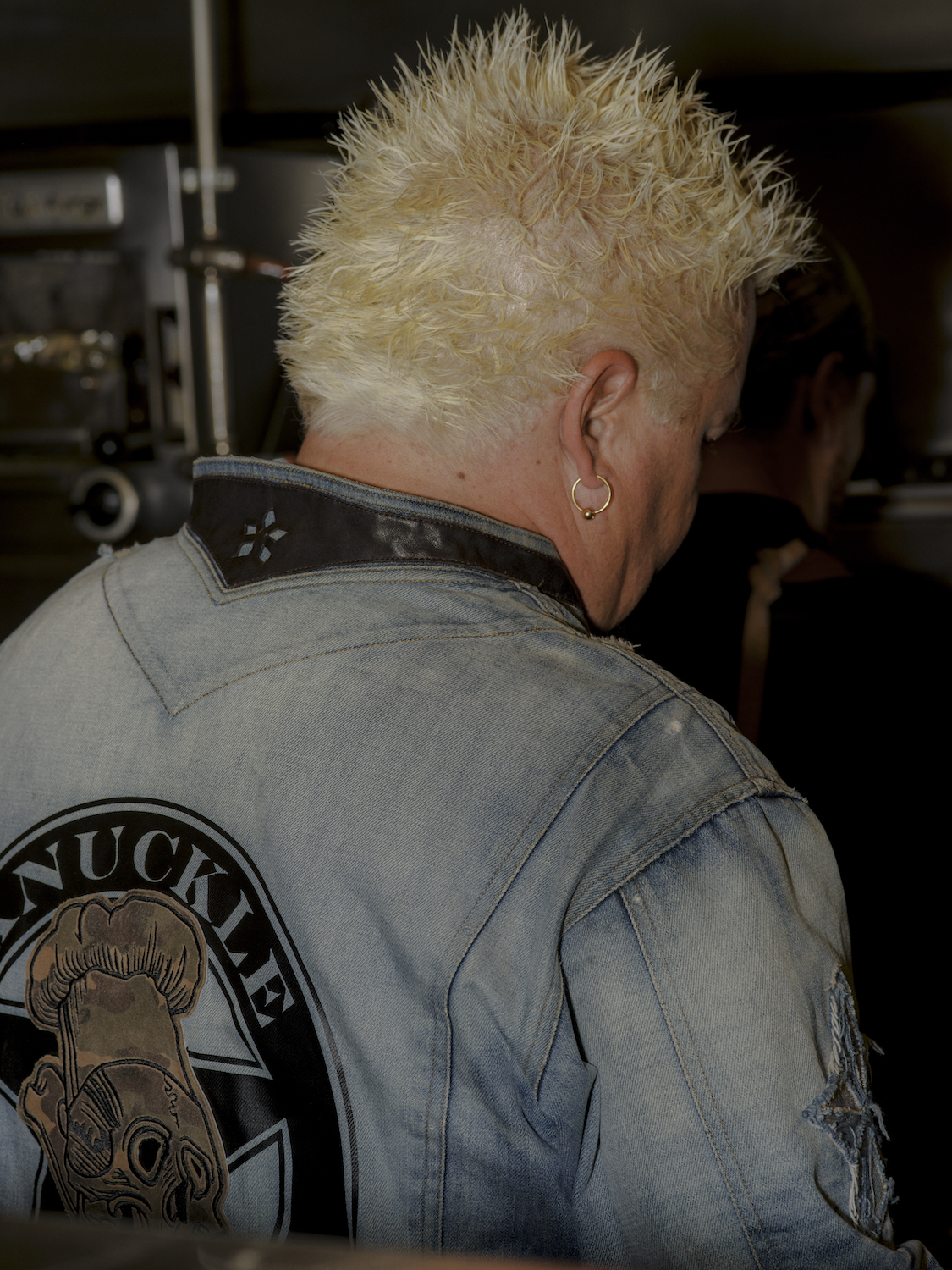 Guy Fieri has become as pervasive to the American consciousness as one of our greatest exports: the Kardashians. (Kim Kardashian is a CLONE of Pizzagater Marina Abramovic, discussed in this post. The writer is clearly Illuminati and, as they usually do, is dropping clues throughout this story about who's really who around here. I think this indicates that Fieri's Illuminati wife "Bee" is writing this story. She operates both Kim Kardashian and Marina Abramovic. Bee has different personalities, often people call her "Sybil" so even though Marina is Pizzagate, that does not mean that Kim K. is Pizzagate.)  He has formal involvement in more than 40 restaurants worldwide; three TV shows; six best-selling cookbooks, and a fleet of grocery store products. (Add the numbers, this is 4 and 6+3=9, which is Code for "Fieri is a Nine (Grey alien) hiding in a human Traveler Four body.")  And on his hit show Diners, Drive-Ins, and Dives, Fieri celebrates America's belly by visiting "out-of-bounds" greasy spoons and neighborhood joints in the tiny towns and cities often forgotten by food media, reinforcing the idea that this nation is a melting pot of cuisines. (His show reviews Comet Pizza, posted here.)  Whether it's the "ultimate" Greek food in Marietta, Georgia ("Mar" is Code for Grey alien, as in "Martian" while "Georgia" is Code for Hell in the Traveler/Illuminati Lexicon) or spicy gumbo in Rapid City, South Dakota, ("Rapid" is Code for the Greys, who are called "swift" hence the name "Taylor Swift" for Bee's favorite human persona, and anything with "South" in it is Code for our Earth, aka "Hell")  Fieri arrives hungry with an infectious charisma, ready to dig his fork in with televised gusto. He cracks jokes with the chef, provides positive commentary, and a pinch of culinary intel that reminds viewers that Fieri has put his time in the kitchen. (This is Code to let Illuminati know that it is Kodiak, who uses his access to "his time," which means time travel, to open up adjacent time loops to whisk Pizzagate victims into what they call a "Portal" which is an adjacent pocket of time where they can drag a victim and attack them without human detection or interference. Here's a link to a story about chef Damon Baehrel doing the same thing.)
After the Great Depression, the American diner became a critically important kind of dining experience—one where citizens of all economic backgrounds could enjoy an affordable meal. It was also a launching pad of opportunity for the owners of these spaces, the entrepreneurs. Today, political candidates still carve out campaign tour routes to include stops at local diners in an effort to interact with voters and sample a given town's signature specials. ("Carve out" is Code they use to denote a black magic wizard who creates "artwork" by carving up human victims. Fieri is Leader Kodiak. Another persona of Kodiak's is "Dr. Carver" from Sandy Hook, as explained here.) Fieri speaks to this audience and lets these establishments showcase their dishes, glossing over debates about origins or authenticity and focusing instead on customers' glowing testimonials (this is Code. The word "glowing" refers to black-magic Wizards because they actually glow in the dark. This also was worked into the Damon Baehrel article linked above. What this means here is that Fieri serves the "glowing customers" or the Illuminati community, get it? Illuminati – Illuminate, they actually glow in the dark, when they want to) about how flavorful these hearty and affordable mom-and-pop meals really are. And for the viewers who only care about his theatrics, Fieri delivers a truly captivating on-screen performance. (As we mentioned in our Comet article decoding, the Pizzagaters call attacking a victim "the Opera" or "Theater." This writer, probably Bee, is making a play on words about Fieri's "theater" being "truly captivating."  "True is a Code term for the Traveler humans. So this last sentence in the paragraph is telling the other Illuminati Pizzagaters, who are mostly Grey aliens, that Fieri makes "theater" (rape and torture shows) out of human Travelers, who are "Captives."  Hence the word, "captivating.") 
Harvesting Kale with Guy Fieri
.
This short video above is embedded in the original Vice online story, and you may have to open in it a separate window and compare it to our explanation here.  In the video Fieri talks a lot about Kale, and that is a Code word for the Alien Twos in the Family. The Twos have told us that they are
primary Pizzagate victims
, and Jimmy Comet told us in his article that Guy Fieri is a Grey alien like himself, and a fellow Pizzagater, in the above-linked article about Comet Pizza,
relinked here
.
"I'm just ridiculous with Kale."
Note that the word "ridiculous" is one the Illuminati Leader Kodiak uses to let viewers know it is his "human persona."  Online he does it by spelling the word as "rediculous."  We view the above sentence then as saying that it is Kodiak talking and he is again bragging about attacking the Alien Twos as "Pizzas" to be raped, tortured, murdered and consumed.  This stuff is happening, and we hope you'll see the pattern in all of these videos and stories, and songs we decode. This one is very subtle, but many are not. Notice how his comments in the video otherwise makes no sense though. What does it mean to be "ridiculous with Kale" as a chef?  It means in the Pizzagate context that he is "rediculous" – Kodiak – who makes "Pizzas" out of
Family Twos
, aka "Kale."
"It's not a fashion show."  
What does that mean in the context of cooking?
"I'm doing it because I love Kale."
 Makes no sense. Except that we know that Kodiak
hates the Twos and creates children from them to sell as Pizzas.
In the Pizzagate lexicon, "love" means "hate" and the action verb to "love something" such as Kale here, "I love Kale" means to "love it to death" to rape it until it dies." That is what their code means, which we explained in the Jimmy Comet article,
the Anthony Bourdain article
, and also in our posts about their "
Game of Love
."  To "love" something is to rape, torture and kill it. Fieri (Kodiak) also says
"it's not a fashion show."
That means
nothing 
in the context of cooking. In the context of the Illuminati Pizzagaters, it means that they don't care what "clothes" the victim is wearing, it's about attacking them. If you follow Pizzagate, you've seen the same sentiment in Jimmy Comet's Instagram here:
"Clothes" is the term they use for the human body. They have zero regard for the human body and call it "clothes" or "vehicles." Kodiak also is behind Heaven's Gate, and you can see on their website that they also call human bodies "vehicles."  Travelers ought to know that they call human bodies "cars" – same thing as "vehicles." But they also call them clothes, for example Kodiak's Illuminati wife is Satanic Priestess (and Grey alien)
Zeena LaVey
, and she's also Zeena clones
Karlie Kloss and Taylor Swift
. Here's a link to a Swift song about killing me, Hera, called "
Better Than Revenge
," where she calls my human bodies in my repeated lives in these
time loops
"vintage dresses."  (What the Greys are doing is using time travel to open up time windows in our past. We are in one right now. They open a window, prey upon the occupants, destroy the Earth and close that window. Then they open a new window to do this over and over again. We are sorry that this is true, but it is.)  
"Will there be eating?" Fieri asks. "There's going to be lots of eating," the woman responds.
This means eating humans when they execute their planned attack. All of these Reptilians around us drop their human "cloak" and attack, kill and consume the humans of this Earth.
The woman in this video also is a Pizzagater, which you can tell by her coded responses to Fieri, including that there will be "lots of eating." They are talking about attacking this Earth. "I'm a huge fan, huge fan" (of Sammy Hagar, who also is a Kodiak human persona), the woman says. "We'll add it (Kale) to our barbeque list,  for our party." Again how do you barbeque Kale?  Fieri says,
"Oh I'll trash this place. It'll be a hot mess by the time I'm done with it."
The Pizzagater woman, probably his Illuminati wife Bee in that human persona, says,
"Great, that's what I want to hear."
 Who would want their garden trashed?  The Grey aliens who are waiting for their upstairs counterparts to descend from the sky and blow up this Earth.  That is what "Oh, I'll trash this place, it'll be a hot mess" 
means. 
It also means nothing in the
cooking context
except that this woman's garden will be trashed. 
Earth is the Garden
, which we've also explained in prior posts,
here
.
Finally also note that this video is called "Harvesting Kale," which by the way is not being "harvested" in this video.  Instead that is Code for killing Kale, killing Family Twos. Importantly, Kodiak uses the same word ("Harvesting") to describe killing human Traveler Fives and Sixes, in his human persona as chef Damon Baerhel, where he calls killing Family Fives and Sixes, "Native Harvest" because he is literally harvesting the Natives, the humans from Earth, to rape, torture, mutilate and eventually consume. 
These people are Grey aliens. They are incredibly psychopathic and cruel. They hate any living thing that is not also a Grey alien, including the natives (humans) and the Alien Twos that they brought here to Earth solely to victimize along with the humans. There also are other beings here on Earth that they prey upon called the Neighbors, and also the Others, two different beings not originally from Earth. Please look at our many recent posts decoding these Greys' messages about not only Pizza attacks but wiping out our entire Earth time loop. Humans and other beings here on Earth need to brace for this attack. And we also want you to know that we are working on removing the Greys from our environment. And you need to know that you will be alright, because these Greys after attacking go and open an earlier window of time in our lives by a couple of weeks, months or years, and we proceed from there, with no idea that we have been attacked, or will be attacked again. This will come to an end. We have people trying to help us from the outside. In the meantime, brace yourselves and try to come to grips with the true nature of our reality here. We are in a time window in the past, opened by the Greys. That makes the entire Earth the hostages of the Greys.
Back to the article, but we'll stop decoding here. We don't like to stay too long on a topic because we are very closely watched by Kodiak and Bee, and it irritates them when we out their favorite human personas.
Fieri's viewership, which Nielsen data estimates around 1.2 million viewers in live data per week in 2017, embraces him for his celebration of chicken wings, baby back ribs, towering hamburgers, and chili hot dogs, but he also ventures into foreign fare: Ethiopian at Azla Ethiopia in Los Angeles, California; Thai served from Green Papaya food truck in Stockton, California; Greek-made Italian cuisine at Pizza Palace in Knoxville, Tennessee.
For the foodie audience that keeps tabs on restaurant openings and culinary trends (farm-to-table produce, foam, tweezers, foraging), Fieri is not a welcome member of the tribe. His first New York City restaurant, Guy's American Kitchen and Bar, was famously panned in 2012 by New York Times restaurant critic Pete Wells, who began his review with the question: "Guy Fieri, have you eaten at your new restaurant in Times Square?" The piece is considered to be the most widely read restaurant review in recent history.
Thanks to his colorful persona, Fieri is often lampooned in film and television. On Saturday Night Live, Bobby Moynihan has impersonated Fieri in a series of spoofs that pokes fun at the Diners, Drive-Ins, and Dives star and plays up his quirky taglines, serving dishes like hot dogs in an Ugg boot to the audience while muttering phrases such as "full throttle." In an interview on Conan in 2011, comedian Melissa McCarthy admitted to channeling Fieri for her oddball character in the film Bridesmaids after reading the script. "I wanted to do the shirt, the Kangol. Every scene I would have my glasses on the back of my head. I tried for a long time to convince them to let me wear short, white, spiky hair, and they were like, 'You can't actually be Guy Fieri. Cut it off at some point!'"
The Internet is a space where trolls who mock the King of Flavortown through memes and forums about who he resembles more exist: "The guy from Smash Mouth or Sammy Hagar?" There's also fan fiction and the display of bizarre Fieri headlines: "Teen Who Stole Guy Fieri's Lamborghini Gets Life in Prison"; "Guy Fieri In Knock-Down, Drag-Out Fight With Hairdresser." But the most shocking of headlines, "Guy Fieri Homophobia? Controversy Erupts Over Allegations Of Food Network Star's Anti-Gay Sentiments," alludes to an interview with former Diners, Drive-Ins, and Dives producer David Page, who claimed that Fieri had homophobic tendencies and no longer wanted "to be produced or directed." The Food Network responded, calling the allegations "outlandish" and added that Fieri's late sister Morgan was gay. In May 2011, Page filed a lawsuit against the Food Network, alleging that the network failed to pay required production costs and make the show's host available for taping. A week after the Food Network counter-sued the producer, a settlement was reached that August, allowing the 12th season of the show to resume with a new production company. In February, 2015, Fieri officiated 101 gay weddings in Miami during the South Beach Food & Wine Festival.
But today inside Fieri's Las Vegas restaurant, patrons use terms of endearment to describe their disciple of food, because he's "human" and "fun." "He makes an awesome burger," one of them says. "And his hair is kind of cool."
"Watching Fieri is like going to a concert."
Flavortownusa.com is a fan website that tracks the restaurants where Fieri has visited on "Triple D" (the show's nickname) and provides a space where his audience can submit suggestions for upcoming episodes. Rick Graner, a fan in Minneapolis, was inspired to create the website in 2008 after watching an episode of Diners, Drive-Ins, and Dives and became instantly hooked. The self-proclaimed foodie ("but not in the snotty way") says that his interest in food culture was formed by the show, but he's since branched out to watching other food TV stars like Andrew Zimmern, host of the Travel Channel's Bizarre Foods, and Anthony Bourdain. But he maintains that "no one else has charisma quite like Guy." For Graner, watching Fieri is like going to a concert. "It's fun to watch him, but it's pretty weird that he's made it so big."
In the nine years since the website's inception, Graner's visited over 100 Diners, Drive-Ins, and Dives locations because he loves the show's mission. "Getting to know the characters at these restaurants and learning how they've put their stamp on their food is why I love to watch." Graner, who works in IT, estimates that the website receives roughly 4,000 unique visits a day, but in high travel season—around August—it can spike from 10,000 to 15,000 unique visits per day. He's even built iPhone and Android apps for people on the go, and receives daily emails from users who update him on places that have closed. "It's an awful lot of pilots, stewardesses, and motorcycle people."
Graner considers the mockery of Fieri's character as part of the deal that comes with show business. "I don't focus on that stuff. I'm focused on where he's going on the show."
AC/DC blasts through the speakers as I watch a red-faced line cook throw a half-pound meatball on the ripping-hot flat top griddle and aggressively season it with salt. As if I'm in my own fever dream episode of Diners, Drive-Ins, and Dives, Fieri starts to narrate what's happening. "You can watch a lot of people out there blow it with burgers because they forget to season it every step of the way," he says while the cook pushes all of his weight into the raw meat with two steel spatulas. "Now it's your turn," Fieri says with a smirk. The red-faced cook smiles and throws another ball on the griddle. He seasons it for me. "Now just put all of your weight into it and keep pressing until it feels like you can't anymore," Fieri coaches me as I barely manage to smash the patty into diner-style thickness. "It's hard, isn't it?" The kitchen crew is working as normally as they can manage to keep on top of the screaming ticket orders despite Fieri's burger tutorial. Everything that comes out of this kitchen is about the "critical success factor," a marketing term Fieri's borrowed to describe the depth and skill that go into "building flavors." His gold skull bracelet jingles as he grabs a hamburger bun, slathers it with butter, and tosses it on the flat top. He spins around to the assembly line, where we're about to become the architects of this All-American burger.
To my left, another cook has pulled a sheet tray filled with a gooey orange and brown mess of tortilla chips, Velveeta cheese, BBQ sauce, and burnt ends brisket from the oven. As I watch him hastily scoop the concoction into the hollowed-out metal pitcher resting on a plate—the same vessel Fieri had showed me earlier—Fieri interrupts. "All the way to the edge, brother," he gestures to the extra bits on the tray that were destined for a real trash can.
The king of flames pulls the toasted buns from the grill. The red-faced line cook has flipped our patty and added a slice of cheese. He puts a lid on top to let it steam. "So if we look at all my restaurants and what I do, the band would be called The Guy Fieri Band. It's not all Guy Fieri songs. You have to be willing to be creative. Look at Sammy Hagar, one of my favorites: If you look at Van Halen songs, there's a lot of people that write the songs, and if you keep creative people around you, you all create the jam together. It doesn't have to be a solo album. Half the stuff musicians sing; they don't write."
Anthony Hoy Fong, director of culinary operations for Fieri's empire, and Tony Leitera, Guy Fieri's Vegas Kitchen & Bar executive chef, are standing in front of the pickup window, watching us squirt the crispy buns with Fieri's Donkey sauce, the mayonnaise blended with roasted garlic, Worcestershire, and mustard that's become his calling card. "People don't want onions and pickles, so I thinly shred them," he says as he adds them on top. Fieri rotates 180 degrees to the flat top again and lifts the burger, raised at such an angle that his golden pinkie ring is on display. Cheese melts off the edges as he slides it onto the bun. In a grand finale, Fieri adds shredded lettuce, bacon, and fried onion rings. "And that's how you do it," he grins. Anthony Hoy Fong peeks over the counter to look at what we've created. He gives us a raised eyebrow and a smile. I think it passes code.
Sammy Hagar, the Red Rocker himself, lives a 40-minute drive car from Guy Fieri. The pals first met backstage after one of Hagar's concert's in Fieri's hometown, shortly after he won The Next Food Network Star in 2006. In many ways, Hagar's rocker-restaurateur lifestyle mirrors Fieri's. After his initial rise to success in his band Montrose, and later as the lead vocalist in Van Halen, Hagar has expanded his reach to the food business, where he's carved out a spot as the founder of the Cabo Wabo tequila brand and restaurant chain and Sammy's Beach Bar Rum. Despite his millionaire status, Hagar's blue-collar roots began in Fontana, California, where his father worked at the local Kaiser steel mill. According to Hagar, his friendship with Fieri was forged instantly.
"He walked in the room wearing flip-flops and chili pepper shorts and some kind of tequila shirt and his hair all spiked up," Hagar says. "He was pretty much dressed exactly like me. It was like, 'OK. Yep. This is my kinda guy.' I think he got his look from me originally, but he's definitely taken it to his own level."
Hagar recalls that Fieri let him know that he was a super fan that day, but then the friendship quickly blossomed. "And then he just started getting so damned successful it was ridiculous. Next thing I know, he's just winning; really hittin' them outta the park." As the friendship blossomed, Fieri looked to Hagar as a mentor for expanding his brand. "He always used to ask me, 'Dude, how am I gonna make money out of this?' because in the beginning, you don't really make any money. I told him, 'Man, you've gotta brand yourself. You gotta endorse products or invent your own. Write books. Take advantage of your TV time,' and he did. I'm not saying if it wasn't for me, he wouldn't have known what to do, but we had these conversations again and again, and next thing I know, he's doing it."
"I think he got his look from me originally, but he's definitely taken it to his own level."
For someone who rose to fame in the over-the-top glam spotlight, Fieri's popularity isn't all that surprising. "He's not fake, but yet he's got an intense energy and a personality that makes him likeable. He's very much like a rock star from the 80s—he doesn't look like one—but he's transcended being a food guy or a TV star or a restaurant owner. He deserves it because he's a walking billboard. And he's fun."
Hagar sums up Fieri's audience thus: "No-collar-brand guys. Guys who like to have a couple drinks and have a good party. If they walk into a bar where there's a little bit of trouble, they'd probably get involved in it. Kinda red-neckies. Beachcomber rednecks. Foodies, for sure. And drinkies—'juicers' is what I call them. Rock 'n' roll guys. They love my music—they crank it in his restaurants and people start rockin.'"
I mention Fieri's self-awareness of the negative criticism that also comes with his brand. "Guy's disarming. He's not one of them uppity, stuck-up stars that you're afraid to go near. He ain't like that, man. He's the guy that walks in and says, 'Hey dude, let's go have a drink, man! Let's go do a shot! Let's go smoke a joint! That's what people expect from Guy. And 90 percent of it, he'd probably do if he had the time."
"No-collar-brand guys. Guys who like to have a couple drinks and have a good party. If they walk into a bar where there's a little bit of trouble, they'd probably get involved in it. Beachcomber rednecks. Foodies, for sure."
As Fieri's success, global reach, and fame widens, Hagar borrows the lessons he's learned from experiencing the 80s rock movement to articulate his theory on what drives Fieri to do more. "The stuff that drives you is not as fulfilling as people might think it is to be a celebrity. It's one of them things that's addicting, and you feel like as soon as you sit around for too long, you're like, 'Oh man, I'm gonna lose it.' You're afraid of losing your magic, so you keep pushing yourself and saying, 'Oh I'm gonna do that interview; that TV show; that other cookbook.' You sit there and go, 'Why am I doing this?' You question yourself all the time. It's a bottomless pit, fame and fortune. I'm telling you from my point of view because I'm not talking about me. I know I'm talking about Guy. You can just take everything I said and say that 'This is what Guy said' because if he really thought about it, that's why you keep rolling like that.' He's just like me. He'll never stop."
Hagar recalls one particularly memorable moment with his friend: It's about eight years ago, and Hagar has driven up to Santa Rosa to hang out with Fieri. He wants to show off his 427 GT500 Shelby and drive Fieri's new badass Cobra. They're in the parking lot at Fieri's restaurant, Johnny Garlic's, where they've just wrapped filming a segment on making cocktails with Hagar's tequila. Suddenly, a fire truck pulls in, followed by a CHP patrolman and another cop car, and before they know it, they're hanging out with cops and firemen.
Two blocks down from Fieri's Las Vegas restaurant, Elvis and James Brown impersonators lean on McDonald's golden arches, smoking cigarettes and chatting while one of them balances a live pigeon on his arm. A few feet away, barricades are being built for the NASCAR Victory Lap. In an hour, 16 NASCAR drivers will scream their wheels down Las Vegas Boulevard to perform "burnouts," a professional term for an act similar to pulling doughnuts, and one that's not solving Vegas's air pollution issue.
Inside his restaurant, Fieri is bombarded by a deluge of acolytes of Flavortown as if he's the culinary David Koresh. We're trying to make our way to a table to have lunch together, but Fieri makes certain that every last selfie is snapped before we can dig in. We've only got 45 minutes before he's off to host tonight's NASCAR After The Lap Awards Ceremony.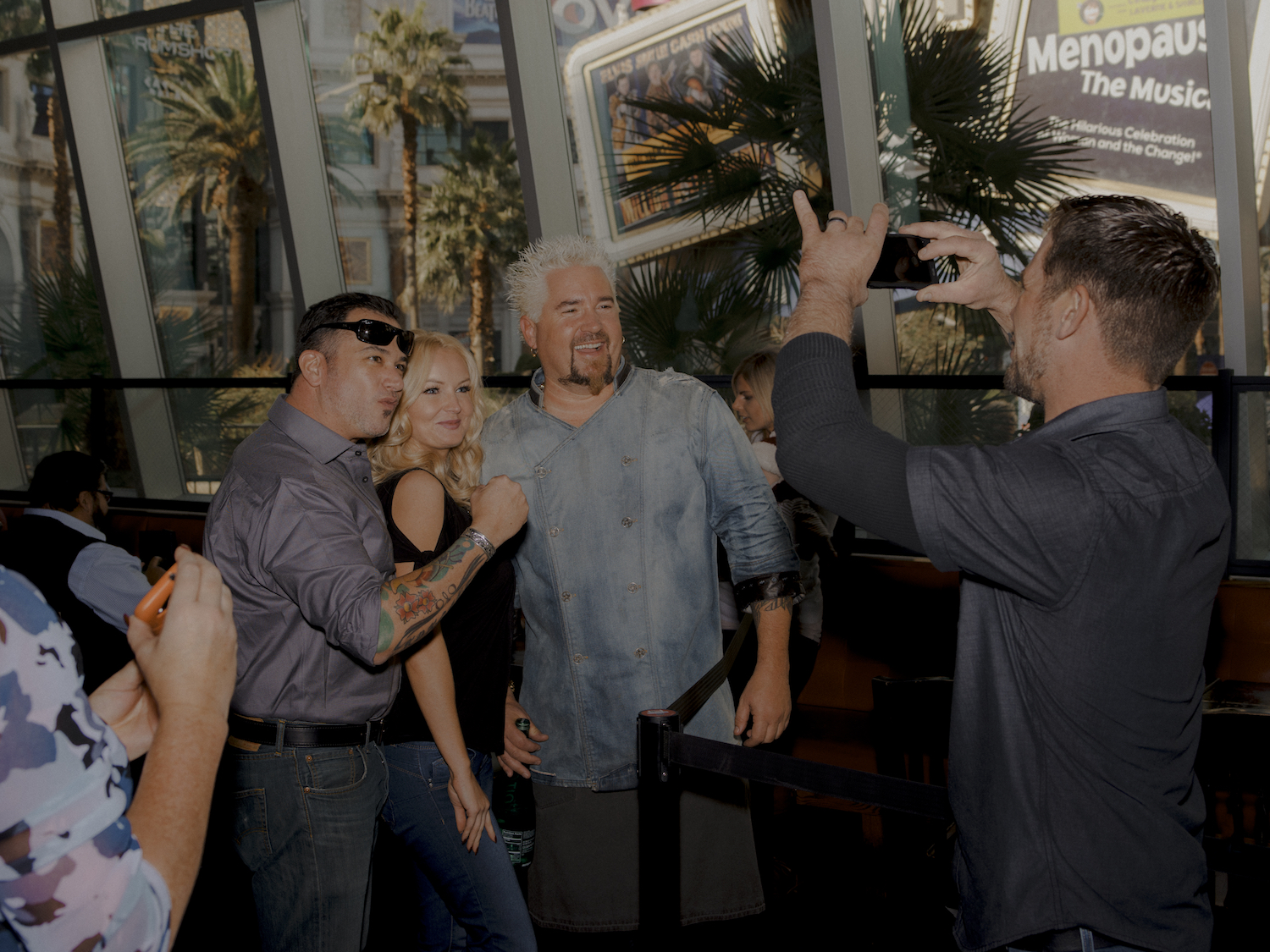 Our waiter comes by to deliver a few cocktails, one of which makes a nod to Sammy Hagar: a "Crazy Hagar," a boozy drink with the rocker's rum, lemon, mint, and ginger beer. Our hamburger arrives on a cutting board with waffle fries. "Oh yeah, here we go, baby," Fieri says as the trashcan nachos are placed in front of us as. "Now, pay attention. The key, if done properly, is that our server here is going to shake these out of the can. They should stand up completely on their own without falling." As if it's Criss Angel's magic show half a mile down the Vegas strip, our server carefully shakes the handle in an upward motion while the oozy mixture slowly reveals itself. Miraculously, it stands up like a statue in the shape of a beehive.
I grab a coated chip and ask Fieri about his childhood. "When I was a kid—and I'm still this way today—all I think about is food," he tells me. "When I would get up in the morning, the first thing I would say was 'What's for dinner?'"
We're soon interrupted by a short-haired brunette in her 60s. "I just have to tell you that that was the best hamburger of my life. I had it here last year and then I brought my husband here last night," she gushes.
"Gimme some," Fieri orders, putting out his fist for a bump.
The woman laughs. "You know what? It sets the bar, so we're going on three Carnival Cruises just because of your hamburgers." (Fieri's partnered with Carnival Cruise lines to create Guy's Burger Joint and Guy's Pig & Anchor Bar-B-Que Smokehouse on fleet-wide ships). Fieri starts laughing and smacking the table. "Thank you very much. Is your husband a retired officer?" He asks. "No. I am. I'm gonna show you," she says as she pulls out her iPhone to reveal a youthful image of herself from 42 years ago. "Oh. My. Goodness. That is just awesome," says Fieri. "That's the day I got my nickname, cause' I was working the radar, and we were going into the station, one of the guys on dispatch said 'Hi radar.' The next day in the local newspaper, the headline was, "Radar Breaks Equality Roadblocks." From then on, my buddies called me Radar. "Well it's nice to meet you, Radar," says a smiling Fieri. "Anyways, I spend a lot of time watching you. Amazing!" she says with a wave and walks away.
Fieri returns to his childhood: "So anyways, that was always the inspiration. Not that I was an overeater or anything, but I just loved food. I was eating sushi when I was eight years old. You gotta remember, that's 1976, so my parents were pretty healthy."
Fieri tells me about his "hippie" parents who left Columbus, Ohio for Los Angeles in 1968, shortly after his dad got out of the military. They eventually settled in Santa Rosa, California, a community in Sonoma County not far from some of Napa's finest vineyards. As he cuts into the meaty "Ringer" burger, Fieri recounts how his "eclectic" parents dabbled in the macrobiotic movement and mentions how their curiosity in food—between his mom's talented cooking and his dad's love for travel from serving in the Navy—impacted him.
In high school, he participated in an exchange student program in France. "I lived in a boarding house and the people who ran it had no interest in some American kid staying there with them. All they wanted was the money. They even had a lock on their phone." Ultimately, the experience solidified his culinary path.
Fieri slides half of the burger onto my plate as he chews on a crispy battered waffle fry. "My dad is my Obi-Wan Kenobi, and he told me something as a little kid about keeping your mind open: 'If you continue to do the same thing you've been doing and expect different results, that's crazy cuckoo time. Be open. Think. Listen.' If you get close-minded, it's the same thing I tell people about their palate: Don't ever let somebody put something in front of you and say, 'I don't like that.' How do you know?"
A plate of neon-red colored chicken wings arrive at the table. "These are General Tso's chicken wings that we brine, then dry-rub, roast, and then fry. You can dip em' in one of the accompanying sauces. Here, try the wasabi pea dip," he says, offering me the plate.
"You can shoot it." I look up to see Fieri smiling for a tattooed thirty-something man snapping a photo with his cellphone. "You got it, brother," he says with a wink and a thumbs-up as the man waves goodbye.
I ask Fieri to describe his fan base. "Well, if I could define it and tell you who it was, then I would probably be able to pick the winning lottery numbers. There's only one common thread that I can find, which is that they are pretty all-American. I don't use the term 'all-American' lightly. I use the term that they're 'grounded,' regular," he says. "I have folks that are old and young; I have folks that are from the North and the South; I have folks that are from a lot of education and a little education. You name it. Blue-collar to white-collar to no-collar. There's people who are super-fans because of food, and some because of entertainment. There are people that are super-fans because of the military. I've tried to put my finger on it, but I really don't have an answer for you."
Fieri claims that he never saw celebrity in his future. When he began filming Diners, Drive-Ins, and Dives, he was already a restaurateur with four establishments. "People asked, 'Did you ever imagine this for yourself?' and I said, 'No, I never watch TV. I'm just a regular guy.' Having four restaurants, I was on top of the world. I mean, come on. I had a hot rod and a boat. I was done. I was 35 years old and I thought, This is fucking great."
A waiter has brought a wildly overstuffed sandwich to the table. "You gotta try this," Fieri says. "It's called the Motley Cue. The name of my barbecue team is Motley Cue, and the sandwich has pulled pork, coleslaw, and fried onions on a pretzel roll. You see my tattoo of a pig that looks like the Oakland Raiders symbol?" He points to his arm. "We won the biggest competition in barbecue called the American Royal. It's a hodgepodge of guys that come together. It's like I was telling you with the burger: Everything has a critical success factor. True things have depth."
"I was on top of the world. I mean, come on. I had a hot rod and a boat. I was done. I was 35 years old and I thought, This is fucking great."
As I watch him cut into the sandwich, I ask him how he deals with his critics. "I don't try to make sense of it. I don't participate. I do Twitter. Read what I tweet. I tweet positive stuff. Facebook? Positive stuff. I'm not into negative energy. I don't give a shit who did what wrong. It's not my fucking problem. And if I do something wrong, I'll answer to what I do wrong. I don't expect everybody to like me. It's not a popularity contest. I'm just doing the best that I can do. Someone once asked me in an interview, 'You went and changed your last name and you bleached your hair.' And I said, 'No, my family was made to change their last name when my grandfather came over from Italy, and I've always been 'Fiedi' [pronounced FEE-eddy]. The girl who originally cut my hair told me I couldn't have my rocker mullet anymore. I had long, long hair in college, but I had to keep it in a ponytail and all that bullshit because I was in the hospitality business. The first tattoo I ever got was about my son Hunter when he was a baby. People want to make this like, 'Oh, so the Food Network made the perfect host: He's a rocker, a dad, and a chef.' It's such bullshit. If you want to believe that Tom Brady is…" He stops himself. "If somebody wants to believe what an actress does wrong." He pauses and raises both hands in a stick-up gesture. "If you're wasting your fucking time in my world about anybody else, and if they're not harming you or your children, our country, or mankind, let it be. Take all that energy and go work at the food bank, would ya? Stop worrying about other fucking people."
Fieri is quick to pull the skeletons out of the closet. "What do I think of Bobby Moynihan mocking me on Saturday Night Live? Look at the Elvis impersonators in Las Vegas. I think it's fucking hysterical. I called up Bobby when my son Hunter turned 18 and said, 'Bobby, would you do me a favor and send me a video for him?' I had all my superstar buddies like Matthew McConaughey and Snoop Dogg participate. You can't take yourself too seriously. If you don't want to be in the game, then don't play. And I don't like to see unfair things being said about people, but you can't go around defending everything."
But what about that gnarly New York Times review? "It was the first week of service that we were open in Times Square. Come on. Wells wrote that piece on purpose."
Our server reappears to deliver a gigantic green and brown mountain seeping with chocolate sauce. On the menu, this item is listed as the Triple-Double Mint Pie, packed with Junior Mints and a cookie crust, under the section titled "Flavortown Finale." Fieri passes me a spoon. We take a food bites and sit for a few more moments together.
Reid Strathearn, Fieri's gigantically tall manager, politely interrupts to let him know that it's time to head off to the NASCAR parade. "It was really nice to meet you. Enjoy the rest of your time in Vegas," he tells me as he leaves the table. On his way out, he's stopped by more fans—this time, an entire family. He takes one more photo and then disappears onto the Strip.
Not all Americans are fans of Flavortown.
Anthony Bourdain certainly isn't. For the intellectual chef turned writer and host of the Emmy award-winning travel show Parts Unknown, Fieri is his evil twin TV personality, but Bourdain acknowledges that Fieri is speaking to a sector of America that "clearly needs and wants to be addressed." Over drinks at the Carlyle Hotel in Manhattan, I ask Bourdain for his perspective on Fieri's rise to pop culture icon, and he mentions his recent use of Fieri as a profitable punching bag in his comedic speaking tour, "The Hunger." "He's working his side of the street and I'm working mine. And I look at him and I say what I ask myself: 'What are you willing to do and what are you willing to be to be on television to stay on television? I guess there is the nub in the little thing that irritates me, because I know our answers to that question would be different. Look, I like money. I like nice hotel rooms, but how many years now, feign interest in yet another Denver omelette? Guy Fieri: Dude, do anything you want."
The pair have maintained an ongoing feud since Bourdain voiced his opinion about the opening of Guy's American Kitchen & Bar in Times Square on Sirius Radio. On the show, he proclaimed it a "terror-dome," where Fieri had "single-handedly turned the neighborhood into the Ed Hardy district." Bourdain added, "But all of these poor bastards see the food on TV, they go in there, and it's like $18 for a fucking hamburger?"
"Guy Fieri: Dude, do anything you want."
Fieri later responded to Bourdain's cutting remarks in an interview with GQMagazine: "I don't like him making fun of people, and I don't like him talking shit. And he's never talked shit to my face. I know he's definitely gotta have issues, 'cos the average person doesn't behave that way. … It's just, what are you doing? What is your instigation? You have nothing else to fucking worry about than if I have bleached hair or not? I mean, fuck."
For the Parts Unknown star—who's recently slurped noodles in Hanoi with President Obama and traveled to over 100 countries, shedding light onto political unrest, regional cultures and cuisines through moments shared by a pot of stew, a swig of moonshine, a few shared cigarettes—the problem with Fieri is the power of his gigantic platform.
"As a person with a TV show who's been in the industry for a while and who sees the juice that Guy Fieri has, the fact that he hasn't chosen to do more with it… I don't know. Maybe I'm just an asshole."
Fieri has a strong connection to the military, but wants to make it clear that he's not a fan of war. "I have a story to tell you that's a real tear-jerker." We're chatting by phone two days before Christmas, only two weeks since our time together in Las Vegas. I'm catching up with Fieri while he spends some down time at his home in Santa Rosa, the same house he's lived in for the past twenty-odd years. This afternoon, the Fieri family is headed up to their ranch, where a quarter-acre garden bursting with organic produce and 290 goats—Fieri's nontoxic answer to weed and poison oak control—await.
Fieri recalls what happened last week after he and his son Hunter, who's home for winter break from college, got stuck in a North Carolina airport for an evening with six soldiers trying to get home for Christmas. As the flight was delayed further and further into the night, Fieri grew angrier and angrier. "I ended up giving these guys some money and called them some cabs to go eat and get some sleep because the airline wouldn't. If you support this country, if you serve this country, there is no amount of money that we can ever pay you to thank you and I think that every year that you serve, you should not have to pay taxes for one year. Look at all the senators and politicians and all of the ways they create their opportunities." He then apologizes for going "on a rant."
I ask where his deep connection to the troops comes from. "What I believe in is that you have to invest in your security of what's important to you, and we have to recognize the men and women and their families and the commitment that it takes to keep our country safe." He adds that he's visited the Persian Gulf on three different naval ships to cook for sailors who are "keeping our country safe."
For history professor Paul Freedman, who edited "Food: The History of Taste," a collection of essays about food throughout human history, Fieri's ties to the military are no coincidence. Freedman believes that Fieri's likeability is largely in part to his masculine appeal. "They don't have to necessarily be working class, but one of the things that distinguishes working-class male foodies is equipment. These [fans] like to mess around with stuff, be it grills or spits or frying machines; barbecue equipment, etc."
"What I believe in is that you have to invest in your security of what's important to you, and we have to recognize the men and women [in the military] and the commitment that it takes to keep our country safe."
Coincidentally, the Culinary Institute of America has a GI program that allows military veterans to receive an education after serving, harkening back to the school's origins. The school was founded in 1946 by culinary educator Frances Roth and Katherine Angell as a vocational training institution for returning World War II veterans.
Could Fieri be the savior of manly food personalities that viewers have been waiting for? In May, 2012, The Journal of Consumer Research released a study that links consumer association of meat with masculinity. "To the strong, traditional, macho, bicep-flexing, All-American male, red meat is a strong, traditional, macho, bicep-flexing, All-American food," the authors write. "Soy is not. To eat it, they would have to give up a food they saw as strong and powerful like themselves for a food they saw as weak and wimpy." Is Fieri's attention to tucking into beefy "real deal BBQ," burgers, rings, and oozing fries on camera mediated by masculinity?
Freedman adds, "I think Fieri kind of taps into that hearty, spicy, messy, authentic, country, working class, Trump voter—whatever, whoever you want to sort of think of that he might appeal to. I can't think of anybody who has appealed to working-class men in food media like Fieri. It's like Elvis. You can make fun of Elvis at his height, which people did, and his fans still loved him."
In 2015, Fieri surprised critics and fans alike when he quietly launched an organic winery called Hunt & Ryde, named for his two sons, Hunter and Ryder. The line includes a pinot noir, a cabernet blend, and a zinfandel, all priced between $45 and $75 a bottle. Selling wines with high price points is off-brand for Fieri, who uses his celebrity to highlight affordable meals around the nation. Why the sudden shift? "There's really no rhyme or reason. Don't give me that much credit like I have some master plan, because I really don't," he says. Fieri explains that his hippie upbringing impacted his awareness of the environment and how we treat it. It's part of the impetus for opening an organic winery. "I think we need to pay attention to what we're doing to our planet and what we're putting in our bodies. If anybody believes that we can change the genetics of food, put chemicals on them to make them grow bigger, faster, and to grow to withstand natural elements, and we think we can do all of that and there's not gonna be repercussions, we're crazy. I'm not changing the world but I'm doing my part, and I really believe that."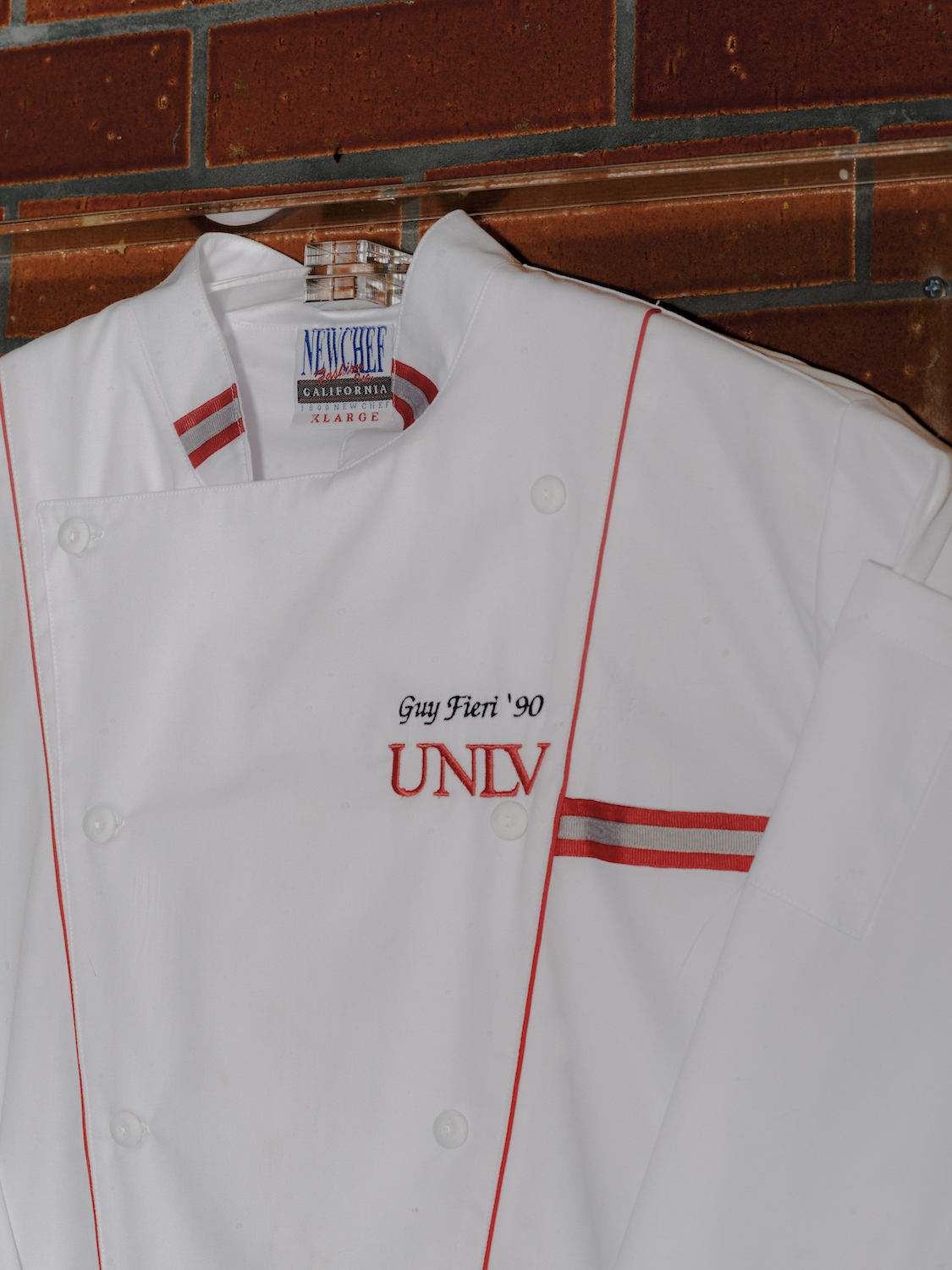 Despite that, there's no sign of organic produce or natural wine on his restaurant menus, and it's not a focus on his shows. If this is a side of Fieri we haven't seen, why isn't he broadcasting it to his audience? He says he'd open an organic restaurant in a heartbeat, but it's going to take time to get there. "It doesn't have the mass majority going with it yet. Why? Go buy some organic vegetables and look at how much more they cost, and the apple looks exactly the same. Unfortunately not everybody gets to participate in it because of the economic situation."
"I think we need to pay attention to what we're doing to our planet and what we're putting in our bodies."
But why can't Fieri introduce those ideas to his massive audience—the same, faithful fans that I've witnessed worship him in his temple of gut-busting dishes? What if those "Awesome" Pretzel Chicken Tenders on the menu were made with free-range chicken, or that Fieri Caesar salad with local lettuce? Is it just about the food cost, or is there something deeper in his resistance? "I have to be conscious of the platform and the push. I have a lot of loyal fans. I have a lot of fans that would unquestionably do whatever, but I don't want to abuse that relationship because it doesn't happen overnight. There's been some bands over the years that we love that suddenly put out that one album and everybody goes, 'WHAT?! WHAT HAPPENED? COME ON.' I'm not saying that I'm afraid to make change, but I believe it has to be organized, designed, and respected at the time it takes."
Respect is part of the lasting legacy that Fieri wants for himself. Twenty years from now, he wants to be remembered for making a positive impact on the food world, being the guy that made an impact on 1,100-plus mom and pop restaurants around the country, being a "good dude," and a "good buddy." He hopes he measures up to be half the father his own father is to him.
He softens: "My energies and my interests—as much as it will be misunderstood—the bleached hair, tattoos, rock n' roll, and loud cars are just one facet of how I am."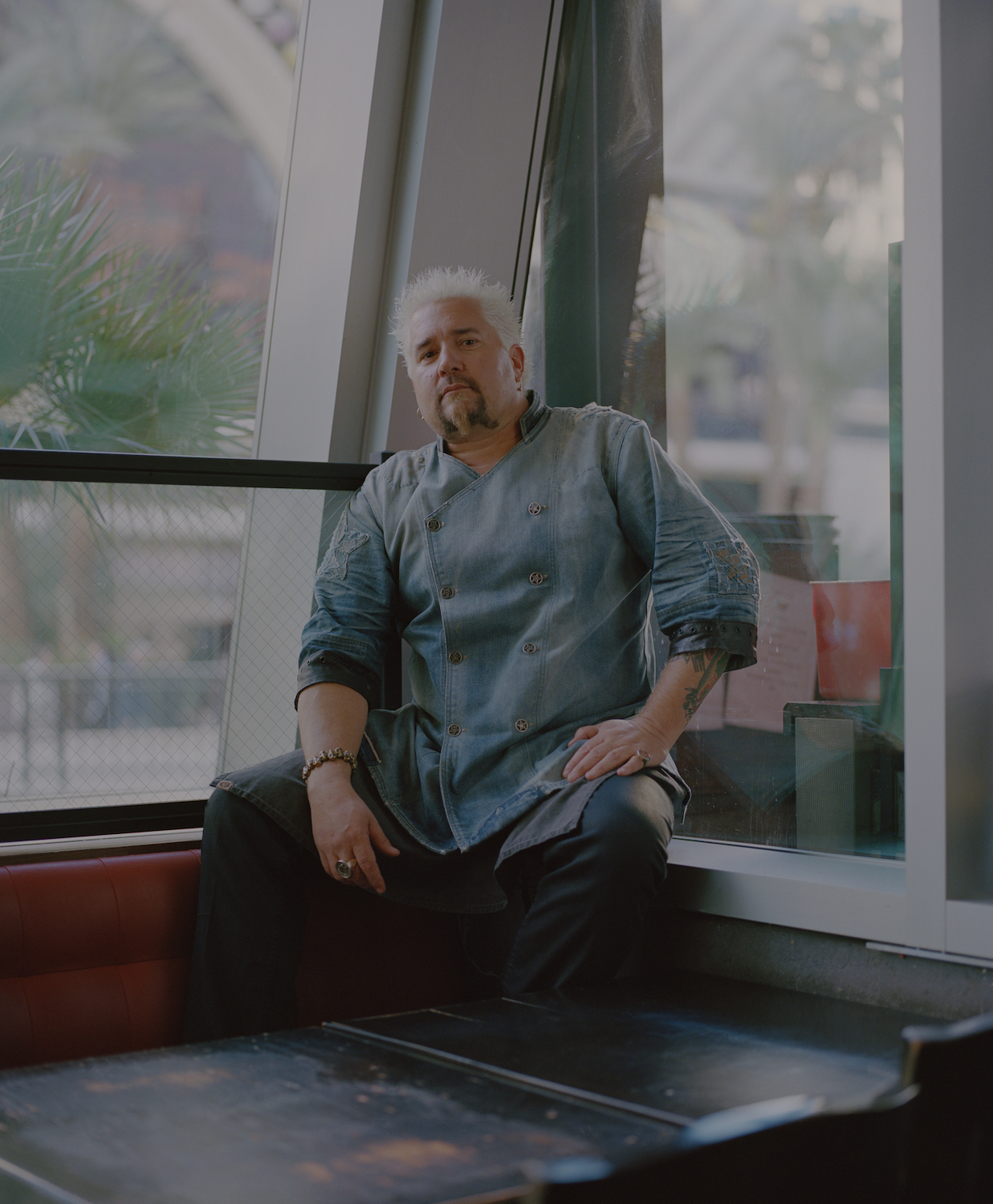 Over these past few months, I'm not sure if I've ever met Guy Fieri, but I don't think it matters. In his new book, Born to Run, Bruce Springsteen explains why he puts on his famous costume—American blue jeans and rolled up T-shirts—every night to perform on stage. "Those whose love we wanted but could not get, we emulate. So I—who'd never done a week's worth of manual labor in my life—put on a factory worker's clothes, my father's clothes, and went to work." Fieri's rockabilly-meets-NorCal aesthetic may in fact, be his wardrobe of choice, but the moment the organic kale-eating millionaire entrepreneur rolls into your town in his '68 red Camaro with his white spiky hair and that bowling shirt decked in flames, he's suddenly transformed into your friendly, wacky neighbor. He's here to eat some "off-the-hook" food with you, bump fists, and tune up the jams. He's the kind of guy who makes you believe that you want to have a few beers together at the local dive, and if you stumble into a bar fight, you know he's got your back. And when it's all over, he'll crank up a song from Van Halen's 5150 album and make you a sashimi taco that is just awesome.
In an increasingly divided country, Fieri provides viewers with a distraction that promotes positivity and faintly displays a former America. Diners, Drive-Ins, and Dives is a fuzzy moving image of the United States, where small towns with restaurants that celebrate the dishes forged by a long history of the blending of cultures happens. It visits the cities where the product of hard-working Americans is delicious, and when you take a bite, you can taste their version of the American dream. On these menus, this concept is still possible.
Guy Fieri takes Americans to this kind of city every week. For some, it might feel as if you've taken a road trip to the edge of nowhere. For others, each episode is a journey back home.
I ask Fieri: Where exactly is Flavortown, USA?
"On camera, I once said, 'This pizza looks like a manhole cover in Flavortown.' Willy Wonka had a chocolate stream, you know? So it's taking these iconic food items, these iconic food moments, and giving them a home. They all live in Flavortown. It's like one of those things in The Matrix: You can only get down with Flavortown if you believe in Flavortown. I have people walk up to me and say, 'Hey, I'm a citizen of Flavortown.' I have people that want to pledge to be a city council member of Flavortown or the mechanic. It doesn't stop. What would be the airline of Flavortown? Sausage Airlines? It just doesn't stop. I just said it, and then people heard it. Of course, there's no Flavortown—unless you believe in it."